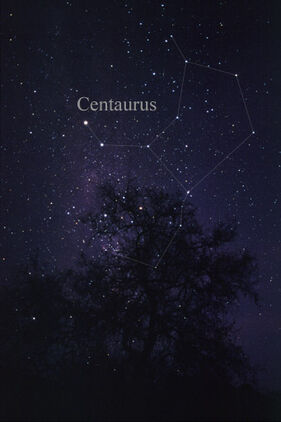 Centaurus is a bright constellation in the southern sky. One of the largest constellations, Centaurus was included among the 48 constellations listed by the 2nd century astronomer Ptolemy, and it remains one of the 88 modern constellations. In Greek mythology, Centaurus represents a centaur; a creature that is half human, half horse (another constellation named after a centaur is one from the zodiac: Sagittarius). Notable stars include Alpha Centauri, the nearest star system to our own Solar System, its neighbour in the sky Beta Centauri, and V766 Centauri, one of the largest stars yet discovered. The constellation also contains Omega Centauri, the brightest globular cluster as visible from Earth and one of the largest known.
Notable features
Centaurus contains several very bright stars because of its position in the Milky Way; in addition, its alpha and beta stars are used to find the constellation Crux. The constellation has 281 stars above magnitude 6.5, meaning that they are visible to the unaided eye, the most of any constellation. Alpha Centauri, the closest star to the Sun, has a high proper motion; it will be a mere half-degree from Beta Centauri in approximately 4000 years
Ad blocker interference detected!
Wikia is a free-to-use site that makes money from advertising. We have a modified experience for viewers using ad blockers

Wikia is not accessible if you've made further modifications. Remove the custom ad blocker rule(s) and the page will load as expected.