Attention!
Certain changes can be noticed on the wiki in the formatting and styling. They are still under testing and you might come across some glitch. Please bring the glitches and errors under the admin's notice.
The GIF background was replaced with an unmoving image because it seemed to act similar to images that can cause epileptic seizures in those prone to it.
It has been noted that the firefox users cannot see the portal links on the mainpage. We are working on it.

Welcome to the Wiki!


Welcome to Open Science Wiki.
We are currently editing over 181 articles, and you can help
Contact Us | About this wiki | New pages | Categories | Wiki tutorial | Help pages
OpenScience is a community effort by students to bring conceptual explanation and detailed information about various topics in the various fields of science. Students will share their knowledge, research, and ideas about scientific discoveries and the workings of nature as we know it. This wiki will have sections for broader science areas like biology, chemistry, and physics, which will be stubdivided by concept/topic groups. The goal of this wiki is not only to be a repository of scientific knowledge, but also to provide explanations and even lessons such that students can learn about interesting topics outside of the classroom in a way that is coherent and understandable.

Broad Categories

---

---

---

---

Search for topics using the search bar on the top of the page(labelled:Search this wikia)
Featured Article
Big bang

TheBig Bang is the expansion of the Universe from an extremely hot and dense state that started about 13.7 billion ago.
Gas
Gas is one of the four basic states of matter. A pure gas consists of individual molecules(like helium, xenon, neon, etc), diatomic molecules (like oxygen, sulphur, hydrogen, etc) or a compound molecule made of different atoms(as in CO2). A mixture of gases contains variety of gaseous molecules like that of air. Read More>>
Gravitational Force
Gravitational Force is an attraction between two bodies by the virtue of their mass. The force of attraction between two point masses is
, where m1 and m2 are the masses of the particles and r is the distance between them. G is a universal constant having the value 6.67 × 10-11 Nm2kg-2. Read More>>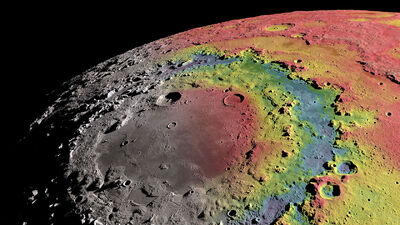 Forget about the dark side of the moon—what lies beneath its surface? Clues to mysterious impact crater rings, according to this subsurface map obtained from NASA's Gravity Recovery and Interior Laboratory mission. The data could provide insight into other comet and asteroid strikes across the solar system.
On the right hand side is the crossword puzzle. There are elements from the periodic table which are spread in all the directions(horizontal, vertical and diagonal). The answer for this puzzle is hidden on our wiki if you dare then try to search the wiki for the answers: it's not so hard though.
We prefer that you open the full sized image as it would be more easy to view.

Open Science Wiki Projects
There is(are) currently one project(s) under work:-
UPDATES
Newsletter issues have been put under hold
New Templates have been added
Solve this Jigsaw Puzzle
Ad blocker interference detected!
Wikia is a free-to-use site that makes money from advertising. We have a modified experience for viewers using ad blockers

Wikia is not accessible if you've made further modifications. Remove the custom ad blocker rule(s) and the page will load as expected.