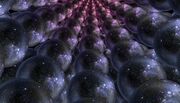 The Multiverse is the idea of other universes in a hypothetical larger cosmic space.
Evidence
In year 2010, concentric circles patterns were found in the cosmic microwave background, the 'echo' of the Big Bang.
"These guys start with a different model of the universe called eternal inflation. In this way of thinking, the universe we see is merely a bubble in a much larger cosmos. This cosmos is filled with other bubbles, all of which are other universes where the laws of physics may be dramatically different from ours. These bubbles probably had a violent past, jostling together and leaving "cosmic bruises" where they touched. If so, these bruises ought to be visible today in the cosmic microwave background." (Quote from an article)
Useful Links
Scientific Research Papers
Ad blocker interference detected!
Wikia is a free-to-use site that makes money from advertising. We have a modified experience for viewers using ad blockers

Wikia is not accessible if you've made further modifications. Remove the custom ad blocker rule(s) and the page will load as expected.