Sorry Sorry Sorry!
I know it has been almost two months and I haven't posted any interesting news or updates related to science. But your patience sure paid well. Okay, I saw this great website called 
NewScientist.com
which has a cool way to get you updated with science news. When you click on a particular article they take you to a completely new webpage which explains you things graphically! Like the picture on right.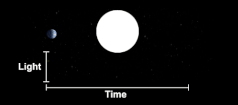 Not only that! There is an awesome background that works things while you scroll down.
It is awesome. So go for this article on Kepler's findings based on Exoplanets. Click below on the image!
Ad blocker interference detected!
Wikia is a free-to-use site that makes money from advertising. We have a modified experience for viewers using ad blockers

Wikia is not accessible if you've made further modifications. Remove the custom ad blocker rule(s) and the page will load as expected.